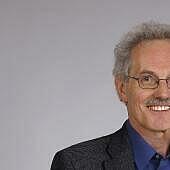 Prof. Dr. Rainer Grießhammer
Rainer Grießhammer is a member of Oeko-Institut's Executive Board and also works in Freiburg. For over thirty years he has been working at the institute in different positions: as an honorary member of the Committee, CEO, head of division, and author. His key areas of research are product-related environmental protection and sustainable industrial policy. He holds a doctorate in chemistry and from 1992 to 1994 was a member of the Enquete Commission of the German Parliament (Bundestag) on the "Protection of Man and the Environment – Options for sustainable management of substance chains and material flows". From 2004 to 2008 Grießhammer was a member of the German Advisory Council on Global Environmental Change (WBGU) and of the Advisory Board of German Federal Ministry of Food, Agriculture and Consumer Protection on "Consumer and Food Policy". Since 2003 he has been an acting member on the board of trustees of the consumer foundation Stiftung Warentest as well as a member on the board of trustees of Utopia, an internet platform for sustainable consumption. He is Executive Director of the Legacy for the Future Foundation (Stiftung Zukunftserbe) which was founded by Oeko-Institut. In 2010, Rainer Grießhammer received the Environmental Award of the German Environmental Foundation DBU (Deutsche Bundesstiftung Umwelt). Since July 2012 he is Member of the Research Advisory Board for the "Consumers, Market and Policy" Research Centre at the Zeppelin University Friedrichshafen in Germany.
Special Expertise
Main areas of work:
Sustainable production and consumption
Methodology development: Life Cycle Assessment, Social Life Cycle Assessment, PROSA - Product Sustainability Assessment, Product Carbon Footprint
Product-related climate change mitigation
Product policy
Key Projects
Ecolabel for climate-relevant products and services, 2009
Product Sustainability Assessment (PROSA), 2007
Feasibility Study: Integration of Social Aspects into LCA, 2006
EcoTopTen - Innovations for Sustainable Consumption (pilot phase), 2004
Professional Training and Career
Diploma in Organic Chemistry (1978)
Doctoral Dissertation in Organic Chemistry (1981)
Honorary Professorship
In 2012, Dr. Rainer Griesshammer was awarded an Honorary Professorship for Sustainable Products by the University of Freiburg.
Memberships
Member of the Research Advisory Board for the "Consumers, Market and Policy" Research Centre at the Zeppelin University Friedrichshafen in Germany (since July 2012)
Member of the scientific advisory board of Federal German Ministry of Food, Agriculture, Consumer Protection corresponding "consumer and food policy", 1992-1994
Member of the Council of German Advisory Council on Global Change (WBGU), 2004 - 2008
Board of trustees, Stiftung Warentest, 2003 - present
Member of UNEP/SETAC Life Cylce Initiative, Task Force on Integration of social aspects into LCA
Executive director of the Legacy for the Future Foundation, (Stiftung Zukunftserbe), 2000-present
Author of several books, among others the bestsellers
Der Öko-Knigge(1984)
Der Klima-Knigge (2007)
Language Skills
English