Environmentally friendly vacation experience: the sustainable journey is the reward
13.07.2016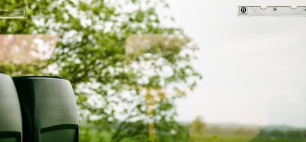 Tourism plays a role for climate change that must not be underestimated. Because the further away the destination, the greater the energy consumption on the route travelled, and the associated environmental implications for the climate. An exciting vacation experience and sustainable travelling, however, are not necessarily mutually exclusive. A clever vacation planning helps to reduce the tourist's individual footprint.
In order to better illustrate the extent of the different holiday travels in terms of environmental implications on the climate, Oeko-Institut on behalf of WWF Germany has calculated the climate footprint for tourist activities. The Alps, the Baltic Sea, the Balearic Islands and Mexico which are considered to be particularly popular with German tourists, were selected as examples for holiday trips. Criteria such as itinerary, means of transport, type of accommodation and catering as well as on-site activities allow for the calculation of the overall CO2 footprint for each individual tourist on average.
The tourist climate footprint: total CO2 emissions per capita
The level of CO2 emissions is particularly high in long-haul travels, cruises and beach holidays merely by virtue of the flight distances covered. Accordingly, experts at Oeko-Institut already in 2009 calculated that air travel to Mexico accounts for 6 361 kg of CO2 per person. By comparison, significantly less, i.e. an amount of 925 kg CO2 per capita, is emitted on the flight to the Balearic Islands.
Another decisive factor is the type of accommodation: All inclusive, bed and breakfast or a self-catering holiday apartment have differing effects on the carbon footprint. Accounting for 52 kg CO2, the GWP of a self-catering holiday apartment on the Baltic Sea is significantly smaller than that of an all-inclusive cruise in the Mediterranean Sea, accounting for 439 kg of CO2.
"Travelers should consciously choose the distance to their destination and use ecological means of transport", says Daniel Bleher, senior researcher at Oeko-Institut with a focus on sports and the environment, with regard to the calculated CO2 values. "It is also useful to search the travel provider and accommodations for energy-saving and environmental protection measures, and to minimize the environmental impact of one's own leisure activities, preferring, for example, hiking and biking to off-road or quad bike tours."
Tourist traffic as the primary source of greenhouse gas emissions in tourism
The tourist climate footprint indicates to what extent a journey is environmentally compatible. Important factors in this regard are in particular the greenhouse gases caused by air traffic, followed by road transport and accommodation. Worldwide, tourism accounts for approximately five percent of all greenhouse gas emissions, thus contributing substantially to global warming. Almost three quarters of these emissions are caused by long road trips and air travel. The choice of a nearby destination can be as a conscious decision to sustainable travel as the choice of the most ecological means of transport. Is it indispensable to take the car or aircraft, or can travel destinations be reached by train, bus or ship? If air travel is unavoidable, travelers can voluntarily invest in Gold Standard-certified climate protection projects that save the resulting quantity of greenhouse gases elsewhere.
Contact at Oeko-Institut:
Daniel Bleher
Senior Researcher im Institutsbereich
Resources & Transport
Oeko-Institut e.V., Darmstadt office
Phone: ++49 6151 8191-139
Email: d.bleher--at--oeko.de
Oeko-Institut is a leading independent European research and consultancy institute working for a sustainable future. Founded in 1977, the institute develops principles and strategies for ways in which the vision of sustainable development can be realised globally, nationally and locally. It has offices in three cities in Germany: Freiburg, Darmstadt and Berlin.
Follow Oeko-Institut on Twitter! twitter.com/oekoinstitut
eco@work – fit for the future!
Oeko-Institut's e-paper. Subscribe at www.oeko.de/epaper_engl