Öko-Institut 2007 Annual Report out now!
01.09.2008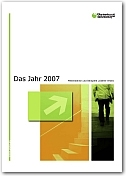 The Öko-Institut's latest annual report is hot off the press: On 24 pages, it showcases the research projects completed in 2007 and ongoing in 2008, and presents the institute's current activity areas. The report further spotlights the 500plus! membership campaign and sets out the milestones of the past year. The 2007 Annual Report is available for download free of charge as a pdf file here >>
You can download the 2007 Annual Report in pdf format, or you can order it directly from us. In addition, we have published an online version of our current reference list, which assembles our key projects, publications and presentations made in 2007.
The pdf version of the annual report is available here >>
Contact
Christiane Rathmann
Head of Public Relations & Communication
Öko-Institut e.V., Freiburg Office
Phone +49-761-45295-22
E-Mail Contact