'The time has come for us to depolarise ecology and economics and to harmonise them instead.'
Opening speech by EU Commissioner Günter Verheugen at the annual international conference of the Öko-Institut in Brussels. Discussion with some 160 participants.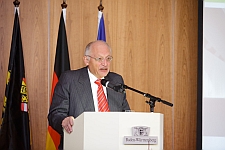 Some 160 participants from the worlds of politics, science, academia and industry met on November 5, 2009, in Brussels at the Annual International Conference of the Öko-Institut, where they participated in discussion about a sustainable industrial policy for Europe with distinguished speakers and guests. The opening speech was held by Günter Verheugen, Vice-President of the European Commission and EU Commissioner for Enterprise and Industry. 'The time has come for us to depolarise ecology and economics and to harmonise opportunities for growth with the struggle to stop climate change,' said Verheugen. In his judgement, the restructuring of the industrial sector, with a horizontally anchored, pan-European industrial policy, is an essential factor in making European industry competitive.
As some of various concrete fields for action, Verheugen named promotion of ecological innovation, resource efficiency, better coordination of research efforts, investment in the training of experts and above all a sweeping transformation of all sectors and not just a select few. In regard to the controversy concerning standards in the automobile sector, he announced a new era for auto manufacturers. In future, he said, manufacturers who produce the most environmentally friendly cars would gain the most favourable market position.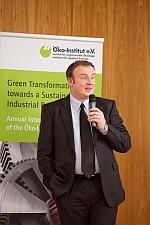 Christian Hochfeld, Member of the Executive Board of the Öko-Institut and an expert in the field of sustainable economic practice, argued along similar lines. In his view, the current economic and financial crisis also represents an opportunity for the environment. 'It is precisely now, during this time of global financial crisis, that restructuring for a sustainable economic order is not only necessary but indeed possible,' said Hochfeld. 'Yet in Germany, as throughout Europe, actually, we have already missed a good chance to take advantage of the crisis for a genuine change of direction. For example, we still lack a sound alternative to the used-car scrap bonus,' charged the Öko-Institut expert. Hochfeld considers the need of a fundamental structural shift to a 'green' economy to be urgent. Besides, there is no alternative. 'Industrial policy must become a core element of sustainable economic practice,' he said.
Further information
Video greetings by Achim Steiner, Executive Director, UNEP